Quick showreel made from TV shows I worked on between 2011 and 2018 : "Mini-Ninjas", "The long long holiday" and "The Mysterious Cities of Gold".
These productions are in 3D with 2D render with quotas between 8 and 10 seconds of animation per day.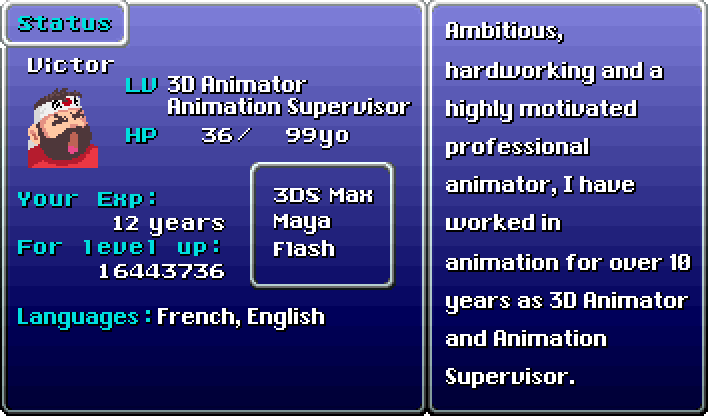 On the side, I have worked with friends on numerous personal video game projects.

Here is some concept art I made to see what these games could have looked like. These were aimed at the mobile market; the first was a runner game and the second was a top-down game where you controlled a ball shaped character with gyroscopic controls.






Click to enlarge

Here is a video of a playable test I made for a platformer game. Having always wanted to create this kind of game, I brought together a team of friends to help me create it. I didn't do the
charadesign nor the backgrounds by myself. However, all the characters drawings, animations,
build and coding of the demo were made by me.




In my free time, I love to do pixel art; I find it really relaxing. Here are two examples I did using this style.


Quick pixel art animation done for a fake video game in an episode of TV Show (Grabouillon 5th Season):




Pixel art transition videos done for a friend for video game website "Frenchgamers" (no longer online):




Once in a while, I like to go back to the basics and do a small drawing or two ... Most of the time it's
motivated by a show or a video game I feel like doing a fanart of.







Click to enlarge